Just to get the obvious out of the way: Cung Le is no Bruce Lee. Nobody ever will be. That said, I don't think anyone else currently walks in the shadow of The Dragon quite like Dragon Eyes. As he trains for his next UFC headlining Fight Night in Macau on August 23 against Michael Bisping, I thought it would be fun to point out some similarities between Lee and Le and why, whether you're into Mixed Martials Arts (MMA) or not, it will be worth getting up early on a Saturday morning to watch the fight.
I don't need to spend too much time on Bruce Lee. We all know he revolutionized martial arts and cinema, but sometimes it's easy for some to forget that he was always a martial artist first and an actor second. In fact, the latter could never have happened without the first.
We all know the Ip Man to Bruce story now dramatized by many films these days. From there, he trained his ass off until once in the U.S., he began to see the dogma around his fighting style. While maintaining a Wing Chun base, he eventually developed something all his own, pulling from multiple styles with a sense of freedom and self-expression at its core. Sadly, the freedom inherent in his Jeet Kune Do was not often felt in his surroundings in the U.S. as he endured terrible racism in the 60s.
I could write a dissertation on Bruce Lee's films. Maybe one day I will, but for now, I'll keep it brief. Enter the Dragon changed my life, like it changed many people's lives. For me though, it was the gateway drug to both becoming a martial arts cinephile and leading to my own training in different martial arts. To this day the fight between Bruce and Chuck Norris in the Roman Colosseum in Way of the Dragon is still my favorite fight scene ever filmed.
It's dated and sure, the sound is bad, but the moves still shine. It also shows Bruce's talent as a director. He played with lots of angles and shots that had never been tried until he shot them. Those shots are still copied today. The man was always innovating. Lately, I think about it more in terms about how much of a hate-mongering fascist asshole Chuck Norris has become and maybe wish a little too much for the fake fight's end to have been real.
As a toddler, Cung Le barely made it out of Ho Chi Minh City (Saigon) in 1975 as the helicopter he and his mother were in was under fire while they fled Vietnam. Once settled in California, Le also endured bullying and racism, which pushed his mother to enroll him in Taekwondo. While Cung Le can't claim to have invented his own martial art, he trained in wrestling, earned a black belt in Judo, and then found his base in Sanshou. Sanshou means "free fighting" in Chinese, so perhaps that's another parallel to Bruce Lee. It's considered Chinese Kickboxing, but really, it's essentially a lighter version of MMA since grappling and elements of Muay Thai are allowed.
I'm going to fast-forward through Le's pro Sanshou career, but just know he won everything there was to win in Sanshou going undefeated (17-0) and then going 3-0 in the K-1 Kickboxing organization. He then entered MMA as an established competitor, and to this day, I'm not sure anyone in the sport kicks like this man. Speaking of kicks, Cung Le has mastered the scissor kick. If he were in a video game, it would be his special move. Usually he uses it as a takedown to transition to another position before going for a submission or ground and pound, but he has also knocked fighters out with it depending on how they fall. This move — combined with all his fists and kicks of fury — earned him the nickname, "The Human Highlight Reel."
The first Cung Le Strikefore fight I remember was against Jason Von Flue. Von Flue was a good grappler, to the point where he invented his own submission move called the Von Flue choke. I knew little of Le at the time, 2006, and thought Von Flue would own him. The fight was over in under a minute after the knee from Le's kick opened up Von Flue's brow to the point he couldn't see through the blood. I didn't see that coming. I was instantly a fan.
The fight fans remember most regarding Cung Le is the Frank Shamrock title fight for the Strikeforce Middleweight belt in 2008. Shamrock is now considered a top 10 — maybe even top 5 — fighter in MMA history. So this time, I knew what Cung Le could do, but though Shamrock was a bit older and towards the end of his career, he was still Shamrock. The fight ended up being a stand up slug-fest, but once again, Le's kicks made the difference. Shamrock was unable to continue after the third round. Le broke Shamrock's arm with his leg. That's how hard Cung Le's shit hits.
An aging Le, now at the top, began to think about the next step in his future and looked to the movies. He had done some straight-to-DVD action flicks before, but landed two major film deals and abdicated his title. To be clear though, he always said he had more fights in him and never said words like "hiatus" or "retire." He continued to train as he moved into the next phase of his career. Martial artist and champion competitor first, actor second. I think Bruce Lee would have approved.
Cung Le is by no means the first or only MMA fighter to transition to movies, but he is unique for a couple of reasons. First, most of the movies fighters make end up being horrible low-budget straight-to-DVD action flicks and once in this hole, seldom get out. Exceptions that make it out would include UFC Hall of Famer — and former and multiple weight division champion — Randy Couture in The Expendables movies, Gina Carrano in Haywire, or former UFC Welterweight Champion Georges Saint Pierre's recent turn as The Leaper in Captain America: The Winter Soldier.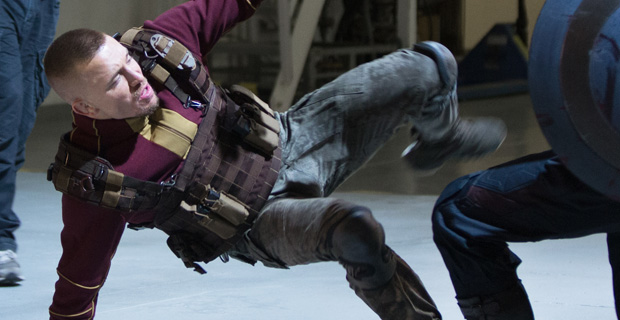 However, those mentioned segue to the next point: if it is an A-list film, usually the fighter has stepped away from the octagon and stopped training for years or has retired and is only focusing on movies. The two exceptions to join Cung Le as being active in the octagon and on the screen are former UFC Light Heavyweight Champion Quinton Jackson, who hasn't done much since becoming the new Mr. T in The A-Team remake, and most recently, current Women's Bantamweight Champion, and probably my favorite fighter to watch due to her technical precision, Ronda Rousey — who recently threw some serious shade at Gal Gadot for being cast as Wonder Woman in Batman v Superman.
Before Gina Carrano got to put Channing Tatum in an armbar in 2009's Haywire, Le had a bit part in Fighting and got to scissor kick Tatum into a Triangle choke. Cung Le's other initial major Hollywood film outing may be his most interesting one to date: the sci-fi space thriller Pandorum. Without giving anything away, he buddies up with Ben Foster, but speaks Vietnamese the whole film. He gets to have a few brief fight scenes, but the plot has nothing to do with any of his moves. It was a brave early choice to get away from the martial arts/action comfort zone and the film is quite good.
After that film, he made a brief return to Strikeforce to fight Scott Smith twice in six months. The first time in late 2009, Le lost, but got an immediate rematch for June 2010, which he won. Always on the move between training, Le was still auditioning and getting call backs in Hollywood.
As if the Street Fighter and Mortal Kombat movies weren't enough, a movie version of the video game Tekken was released in 2010. Needless to say, but the film was terrible. Cung Le was cast as Marshall Law — who apparently had more parts in the film — but once edited, was cut to the point that if you were to get up to pee for a couple of perfectly timed minutes, you would miss his entire appearance in the film. Out of all of these small roles playing the fighter, which were paying about the same as some of his fights, came a chance to work with my favorite man in the game: Donnie Yen.
In Bodyguards and Assassins, Le plays a rabid fighter that takes it to the much calmer Yen in a fight where he gets to two-arm shoulder-throw (Morote Seoinage) Yen crashing into a table. Donnie Yen shows his MMA training too (see Flashpoint and SPL) and catches Le's character with a heel hook before finishing him off. While working in China, he made the connections to land a small and very bearded role in True Legend.
After two years off for the acting and travel demands, Cung Le went back into the Octogon in 2011 for the first time under the UFC banner and lost in a brutal fight with former Pride Champion Wandarlei Silva, who broke Le's nose. The following year was a big one for Cung Le. His status as both a fighter and action star was high in the U.S., but in Asia, it had reached heights not even he could have imagined. It's worth mentioning that at this point, Cung Le was 40 years old. You can count the number of 40+ fighters on the UFC roster on one hand. It is amazing. Talk about your real life superhero.
2012 was also the year Cung Le stepped out as a lead actor in the aforementioned Dragon Eyes. I remember when the trailer came out and after a minute I thought, "Huh. I feel like I've seen enough from that." Unfortunately, this ended up being true.
Van Damme co-starred and he didn't get the Expendables make-up job in this one. Compared to the ageless Le, Van Damme looked old and worn out. Nonetheless, it was a great break-out role for Cung Le and proved that he could act (somewhat) and play more than small roles revolving around fight choreography. This was also the year The RZA's Man with the Iron Fists came out and Le was cast as the blond Bronze Lion. The film had that Kill Bill campy throw-back vibe and I really enjoyed it. For me personally, this was the most fun I had watching Cung Le and his fight with Lucy Liu was one of the best on-screen fights of that year.
Perhaps an Oscar nominated film for the next milestone? It didn't take long. Le was cast in the award-winning and 2014 Oscar nominated film (cinematography and costumes) The Grandmaster taking on Tony Leung's Ip Man in an extremely wet battle.
The following year Cung Le served as chief coach for the reality show The Ultimate Fighter: China, the first time the show was produced there. His popularity just kept climbing in the region. I remember from social media Cung Le talking about his next movie project with Dolph Lundgren. Puncture Wounds came out earlier this year, and according to my queue, is streamable on Netflix. Whether it's good or not, it's yet another film with Le in the lead holding his own.
This brings us up to speed for the Bisping fight. I really detest how many UFC crowds have turned into these hyper-nationalist monsters and it seems like executives may be playing into some of these scary fascist tendencies. Once upon a time, it was about what you could do, not where you were born. Anyway, there is an ethno-colonial narrative at play here with the loud-mouth British Bisping fighting one of the top Asian fighters in the UFC in Macau. Sure, it's not Hong Kong, but it's damn close by. Add this ties into Le's already huge popularity in China, and the crowd may be just a little in favor of one over the other. How many martial arts flicks does that narrative bring to mind?
Whatever happens in the fight, remember this: Cung Le is the real deal and whether consciously or unconsciously, he has followed the path of Bruce Lee quite well. I would love to see him climb the ladder to a UFC title shot. I'd also like to see him break out with a lead in a huge blockbuster movie from Hong Kong or Hollywood, maybe playing a Marvel superhero or something.
Also remember this: the man is 42 and doing all of this crazy shit. The only other person I could imagine doing all of this at that age would have been Bruce Lee.