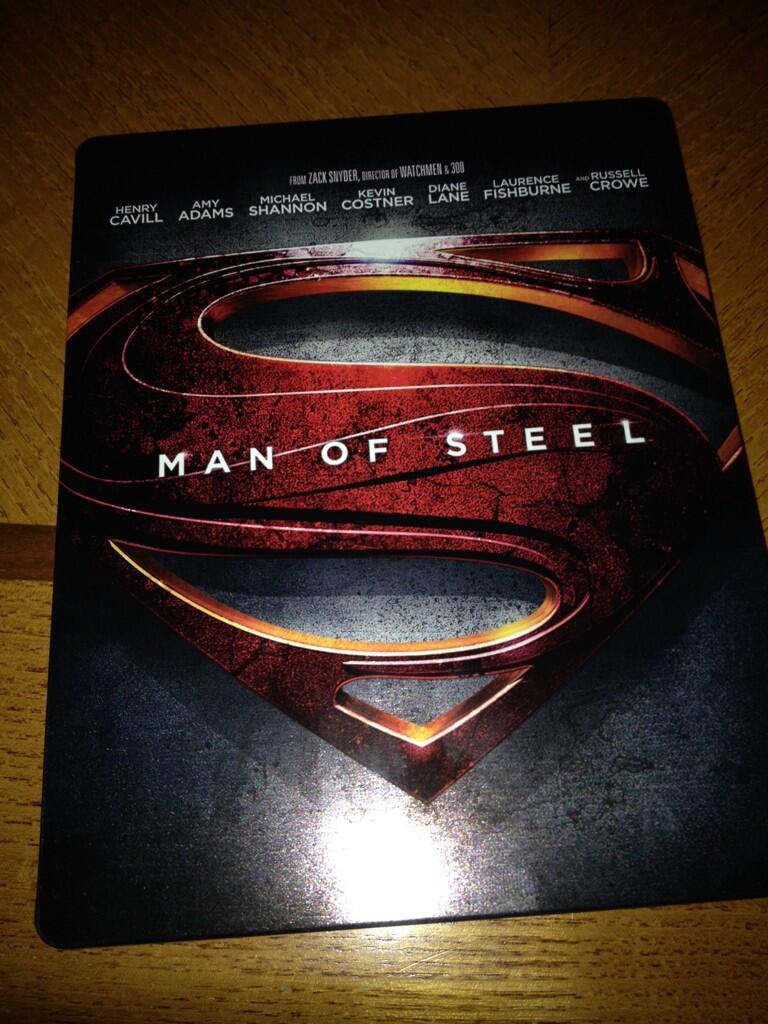 So Man of Steel was released on blu-ray and DVD today. As I do whenever a superhero movie is released on home video, I went to the store first thing in the morning and bought it.
Since dispersing special features across multiple retailers as store-exclusives is now standard practice, I had to make the tough decision of where to get my copy. Should I go with the Wal-Mart exclusive in steelbook packaging with 30+ minutes of additional extras? Or go with Target's lenticular digi-book with a different set of special features (also 30+ minutes)?
So I did what any good fanboy would do. I bought both.
Full disclosure: unlike most of the fanboy intelligentsia, I really liked Man of Steel when it came out in June. While I agreed with some of the critiques — namely, the overindulgent third act — I thought the positives outweighed the negatives and was really excited about how Zack Snyder and company were going to follow up the events of this movie in a sequel or two. Now that we know the sequel is going to Gotham, I'm less enthralled with how they intend to follow through on what's set up in Man of Steel.
Still, the movie holds up for me on multiple viewings. This time, I watched it in "Journey of Discovery" mode, which is what Warner used to call Maximum Movie Mode. If you're still not familiar, it's when they embed a making-of documentary into the movie itself. Normally on a disc, you can opt to just watch the making-of segments independent of the movie. On Man of Steel, however, Warner Home Video decided to include a separate disc to house the "Journey" version of the movie, and I have to say, it's a fascinating way to experience the film. It's essentially a 3-hour documentary about the making of a Superman movie, and if you get the disc, it's definitely worth your time. Even if you hated Man of Steel.
Anyway, I popped in the disc, fired up twitter, and shot off this stream of consciousness as the movie played. You can search #NOCofSteel on twitter or check out this Storify of all the tweets.
I've singled out a few choice ones below.
Love or hate Zack Snyder, the man knows how to take full advantage of the home video format. #NOCofSteel

— The Nerds of Color (@TheNerdsofColor) November 12, 2013
Michael Shannon playing with a Zod Movie Master figure while (dryly) commenting on MOS is my favorite thing in the world. #NOCofSteel

— The Nerds of Color (@TheNerdsofColor) November 12, 2013
"Creeping cancer of falsehoods" — the new tag line for #NOC? #NOCofSteel

— The Nerds of Color (@TheNerdsofColor) November 12, 2013
Okay. Superman hovering over the military is a pretty dope moment. #NOCofSteel

— The Nerds of Color (@TheNerdsofColor) November 12, 2013
Destruction porn aside, the superhero fights in this flick really are superior to other movies. #NOCofSteel

— The Nerds of Color (@TheNerdsofColor) November 12, 2013
I do love Zimmer's #ManOfSteel score. How awesome would it have been to be in the studio to be a part of that drum circle?! #NOCofSteel

— The Nerds of Color (@TheNerdsofColor) November 12, 2013
I want Michael Shannon to do video commentary on EVERY MOVIE. #NOCofSteel

— The Nerds of Color (@TheNerdsofColor) November 12, 2013