Fourteen-year-old Philip Zhao is a freshman in high school and a gamer who enjoys NBA 2K18 in his hometown in Maryland. His whole world was turned upside down when his father sent in an audition tape for a little film called Ready Player One, directed by one of the most famous directors in the world — Steven Spielberg. Zhao was picked through a nationwide search, beating out hundreds of young actors who auditioned. In the film, Zhao plays Sho, a gamer in the OASIS and part of the High Five, who are hurled into a fantastical universe of discovery and danger to save the OASIS and their world.
The Nerds of Color sat down with the actor to chat about his first major role, his favorite Easter eggs from the film, and what this film means to him and his generation.
NOC: Congratulations. This is your first major film being cast and first role in general. What was your first reaction being cast?
Philip Zhao: When I first got cast, my dad went to the kitchen and I was eating Chinese food. Then he came in and he was like "Phil, you got the role." The first question I had was 'how much money will I get from this?' When you think of Hollywood, you think of the big stars and the huge amount of money and as a kid, I dreamt of that.
Spielberg is one of the biggest directors in the world. This is your first role ever. How was that for you?
I was sort of intimidated, but then when I got on set, Spielberg was really nice to me. Steven. I called him Mr. Steven Spielberg at first. The full name. He said call me Steven. He made you feel at home. That's what made a huge difference.
You're Generation Z, but the film depicts the 1980s and beyond. How much research did you have to do?
Onset, while we were filming scenes, I would always look into the schedule tomorrow or the next day and if there was some scene with a movie in it, I would watch it. Like, The Shining. When they told us that The Shining was the next day, I went home and went on Amazon Prime and tried to rent it. It was free. I watched the trailer and I thought 'no no, just no. I'm not watching that anymore. I'm just going to read the summary.'
Any moments of confusion during filming because of certain Easter Eggs?
Yeah, there is a deleted scene at the end of us finding a spaceship. It's never going to be shown on the big screen, so I can say this. I didn't know where the spaceship was from. I didn't know what it was. I asked Steven and he looked at the computer people over there and they looked at Steven and I don't think anybody knew what it was. I bet Ernie [Cline, the author and screenwriter] would have immediately recognized it.
With the lack of diversity and inclusion in films for Asians in Western media, but we are starting to see a rise in there, including you and Japanese-Burmese actor Win Morisaki (who plays Daito) in this film. How does it feel to represent yourself as an Asian American good guy in the film and a potential role model for future Asian American actors as well?
It's kind of overwhelming. My first movie and I'm put into this big spotlight, but again, Steven makes you feel at home. He has the best people. He teaches you the little tips and tricks so you can get by. I feel really fine, that's for sure. I think Win and I know this, working together.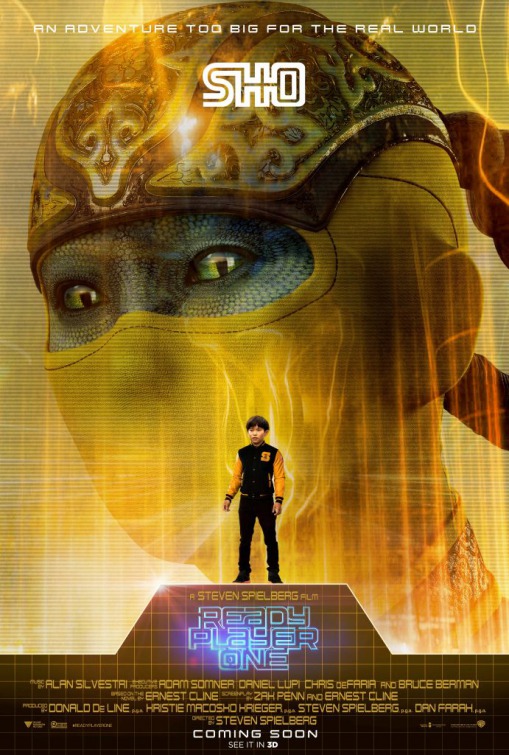 You're the youngest on set. You were surrounded by newcomers like yourself but also great actors like Ben Mendelsohn (Sorrento) and Mark Rylance (Halliday).
We actually hung out a lot. It didn't depend on age. On set, it was just a bunch of pop culture references since they knew us as kids, they basically turned into kids themselves. We played video games together. Win and I played FIFA quite a bit and always beat me. Actually, in Austin, at SXSW, there was this Pac-Man machine with multiple games on it like Space Invaders and stuff. Ben talked me how to play that.
Little kids will watch the film and see a kid, like themselves, in the movie. What message do you want them to get?
I don't know. This is a hard one. I never really thought about it. Probably just be yourself because, how l am in the movie, I am literally just myself. I don't like being judged by my age. I think that's why Steven chose me because I'm literally am acting out who I am. That's what set me apart from the others.
Was there a scene in the movie that you were excited about?
I loved the final battle scene. They had this huge set in the Mo-CAP room. Mo-CAP is typically this white room and you're sweaty in your Mo-CAP. They actually built a set for that one — the mountain. I found that really cool. They had a TV on the mount so you can see your surroundings without putting on the headset. Having the boombox scene and Iron Giant appears!
What would be your avatar if you could create it in this world?
Well, I think I'm pretty handsome already. We might as well play it safe and don't risk any bad moves.
You worked with the legendary director, Steven Spielberg. Did his other famous films come up during filming — especially since most of them were out before you were born?
He constantly told stories on-set about his previous experiences, like when a machine would stop working or crash, he always talks about Jurassic Park or Jaws about the mechanical shark or the mechanical dinosaur didn't work. He was calm, but it would give him headaches. Since we had a lot of computers crashed on set, we had to be very patient. I'm sure that his stress level went up because it caused us to run behind schedule.
This movie has a bunch of franchises mentioned — Star Trek, Star Wars, Halo, etc.
We couldn't get the Star Wars one!
Oh, there was mention of the Millennium Falcon.
Yes, it mentioned it.
Well, is there a certain franchise that you'd like to be a part of?
If I was in charge of putting the references in, I would have added the NBA 2K franchise and the Madden franchise because those are two video games that I love watch and play.
Well, is there any that you'd like to be involved in?
I know what I want. If I could be in a movie, if I could put myself in a movie, I would choose to be in Thor: Ragnarok. That was probably the best movie I saw in 2017.
So, you'd want to be in the Marvel franchise?
The Marvel franchise. Yes, I love the MCU. [Publicist whispers: "WB owns DC"] I mean, I love DC!
Ready Player One opens in theaters this Friday, March 29.