Recently, the American Girl company announced it was "archiving" several of its characters, including the African American doll Cecile and the Asian American Ivy. Discontinuing these two characters means that parents and children looking for diversity on the toy shelves are going to be left wanting.
In response, our friends at 18 Million Rising have started a campaign to ask American Girl to create a new Asian American doll and enlisted two tween sisters, Taylor and Aiden, to lend their voice to the cause. Their open letter and petition is after the jump. (And while they're at it, American Girl should probably come up with some more black and brown characters too.)
———————
We're sisters, and we don't agree on everything. But we definitely agree that Asian kids like us should be able to find dolls that are Asian, too.
That's why we were really bummed out when we heard that American Girl, the company that is famous for making dolls, is going to stop making their only Asian American doll. Growing up, we didn't have a lot of choices for toys that like looked like us. Now what will Asian American kids do?
Join us to tell American Girl that we want them to commit to creating another Asian American doll.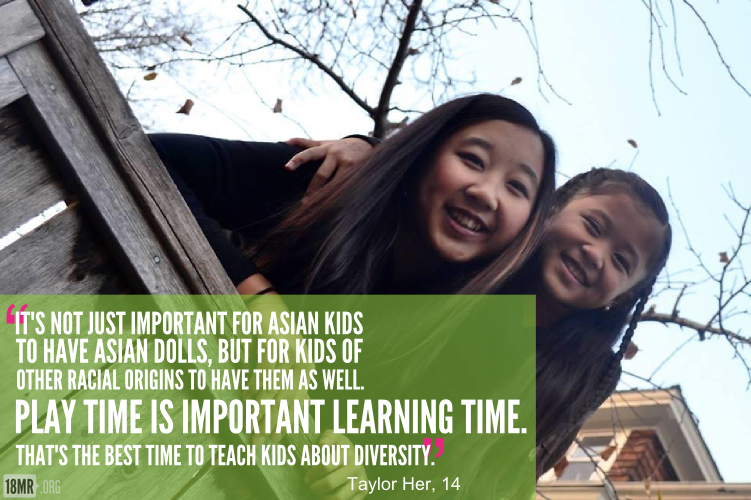 Each American Girl doll comes with a personal story, and the stories are always very interesting. You can learn about the doll, where she comes from, and why she is different and special. If American Girl doesn't make an Asian American doll, then no one can learn her story.
We also think it's important for American Girl to make diverse dolls because we live in a diverse country. We are Asian girls and we're part of America. There should be an Asian American Girl doll that looks like us, too.
Will you sign the petition asking American Girl to make an Asian doll?
It's not just Asian kids that should be able to find Asian dolls. Every kid should be able to find lots of different kinds of dolls — because the world is filled with lots of different kinds of people. We have lots of friends of all colors who want to buy an Asian American Girl doll, too!
"If you don't have the doll, then you don't have the story."
---
18MillionRising.org was founded to promote AAPI civic engagement, influence, and movement by leveraging the power of technology and social media. 18MR is comprised of a network of a AAPI activists, artists, organizations, and digital media influencers, ranging from community based organizations and print magazines to Asian American blogs and YouTube channels.